Welcome to Global Good's Impact Interview series. Today we'll be speaking with Super Connect for Good 2022 Global Winner, Chris Nutman, the founder of Global Teacher – the EdTech startup behind Pod & Lumi, which can be used to deliver educational content without the need for power or internet connectivity.
In this interview, Chris discusses Global Teacher's mission and motivation, the most pressing societal issues impacting education for millions of children across the world, and how it works with NGOs to train, implement and monitor the usage of Global Teacher's tech.
Can you introduce yourself and tell us about your role?
I'm Chris Nutman, a design engineer and the founder of Global Teacher CIC & CIO. My role is to steer Global Teacher and realise its vision, which mainly involves product development and fundraising at the moment as we gear up for an international pilot of our tech for good products Pod & Lumi.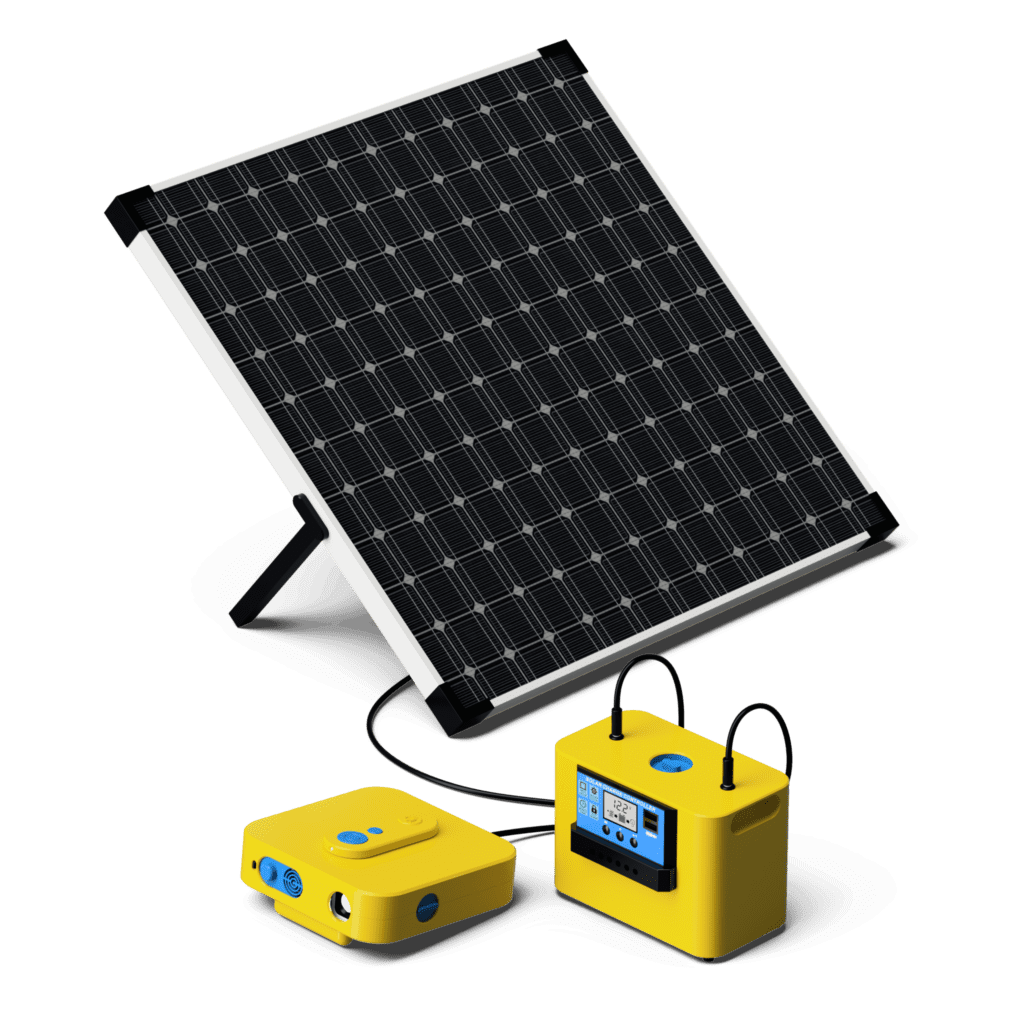 Pod is a low-cost, durable, solar-powered smart projector that gives access to the world's best digital education through its bespoke and in-built offline learning software Lumi. Together, Pod & Lumi plan to ignite the dreamers, visionaries and problem solvers of tomorrow.
How did your company come about and what was the motivation behind it?
It was at Manchester Metropolitan University, in my final year when studying for a design engineering degree. For our final year major project, the brief was to choose a subject area, find a problem and design a solution.
I chose to study education in the developing world because I was aware that the standard and availability of education in rural communities were not the same as what we receive here in the UK, for example.
What I found was a host of shocking statistics. 15% of the world's adults are illiterate, 50% of the world's schools don't have internet and over one billion people don't have access to electricity.
How in this environment can you keep pace with the rapidly evolving educational landscape? How do you grow and develop as a society? Often these rural or remote communities don't, so they get left behind, trapped in the vicious cycle of poverty.
This, combined with a passion to chase my dreams and be an inspiration for others after suffering a lot mentally and emotionally, I decided to pursue the idea behind Global Teacher and founded the Tech for Good startup in 2019 to act as a beacon of hope and show others who feel trapped or stuck that it is possible to go beyond that and pursue a life of purpose and begin to fulfil your potential.
Can you describe Global Teacher's mission and values?
Global Teacher's mission is to give one million marginalised people access to digital education using our offline and off-grid EdTech Products by 2030.
We have a vision to inspire a world where individuals are enabled to pursue personal dreams and endeavours for the betterment of themselves and therefore humanity.
It is our core belief that exposure and access to good quality education is the catalyst that will enable tomorrow's dreamers, visionaries and problem solvers to change the world.
Our company values are Education, Inspiration, Innovation, Integrity, and Hope.
What are some of the most pressing social issues that Global Teacher is working to address through its technology?
There is a term, "the bottom billion", used to describe a gap in equality where those referred to are often overlooked and remain trapped in the poverty cycle.
Education is widely regarded as the key to unlocking this proportion of the population yet, in the most rural parts of the world, there is no internet, no electricity and therefore culturally outdated or language-inappropriate education.
Global Teacher's offline and off-grid EdTech products Pod & Lumi aim to put the world's best, most relevant digital education in the hands of the hardest to reach.
How does your company measure the impact of its work in creating positive change?
At the moment we are gearing up to send the first batch of solar-powered classroom projectors with built-in offline learning software out into the world.
We work with a host of partners around the deployment of units to specific rural locations or areas in crisis and need this kind of technology to maintain education or bolster the current offering.
We design and manufacture the product in-house, in Sunderland, using 3D printing. We 3D print with PLA filament, a vegetable starch, so it is fully recyclable and biodegradable plastic.
We then safety test and onboard relevant educational content partners before packaging and shipping the units with local logistics partners to rural parts of the world.
Once in-country, we work with on-the-ground partner NGOs to train, implement and monitor the usage of our technology. This involves feedback, data gathering, maintenance and more during the pilot period.
We then use the data to evaluate and improve the product, understand feedback to measure our impact to ensure improvements in educational outcomes are present and if not, why not?
It is this iterative approach that will ensure the successful implementation of Pod & Lumi into remote or off-grid settings around the world.
In your opinion, what impact will technology have in creating a better future?
The interesting thing about technology is, in developing nations, the concept of "appropriate technology" is applied. It is not over and above or surplus to requirements, technology is used to meet more basic needs.
It is often bespoke, sometimes basic but well-considered, user-centred and adapted to the environment – this makes for a unique design case. This is what attracted me to designing and innovating in this space, it seemed much more essential, much more important or pressing.
Personally, I have an interest but no huge passion for the way some modern technologies are developing such as AI. Therefore, on the wider technology front I am both fascinated and fearful and a little bit confused, but nevertheless hopeful; I am sure as a society we have it in us to steer our evolution and subsequently the evolution of technology in the right direction.
I believe we all have a right to stand for and pursue what our unique circumstance affords us and whatever we are being called to do or develop or be a part of can be our service to the world whilst we are here.
What advice do you have for other companies looking to use tech for good and positively impact the world?
Make sure it's your thing. Make decisions aligned with what you think is right. Do it for the right reasons and be patient!
It has taken us 4 years to develop this technology before sending it out into the world and that was very hard to wait all of that time to see it in the hands of a rural school teacher or see the smile on someone's face who is inspired by Pod & Lumi.
Keeping in mind that grand vision and ultimate potential of your tech for good idea should, and in my case has, been enough to see Global Teacher through until this point. But there is more to come and bring it on.
What entrepreneurship support programmes, initiatives or events have helped you along the way?
Right from the very beginning, the If We Can You Can Challenge in 2018 was the first entrepreneurship competition that I entered with at the time mycloudcoach which we later rebranded as Global Teacher. In this competition, we won the Ideas Prize which was for ideas not yet turned into business ventures or before incorporation. This award gave me the confidence and a host of amazing prizes including mentoring from Lee Longstaff at PNE, to leave employment and begin a startup venture.
At the grand final of the awards, I met a lady called Laura Foster who spoke to myself and my mentor/now Director Janis Green and offered us space at the startup hub of the University of Sunderland Enterprise Place. Janis was introduced to me by the Entrepreneurs Forum. The next big initiative was the North East Business Innovation Centre (NE BIC) Innovation Programme which was a 40% match-funded ERDF programme that helped build the first prototypes of Pod & Lumi. Following that we became a member of the Natwest Accelerator and the Innovate for Good programme at the NE BIC. This led to winning the North East Social Innovation award in 2021 backed by Innovation Super Network.
Since then we have entered Tech Nation Rising Stars and were crowned a City Winner alongside the fantastic Super Connect for Good (SCFG) Global Tech for Good competition powered by Hays and Empact Ventures. Global Teacher as a four-category winner (EdTech, North of England, Impact Challenge and the Global Winner. All of the aforementioned initiatives and support programmes have been pivotal and transformative for Global Teacher.
How exactly has the Super Connect for Good Competition powered by Empact Ventures and Hays helped you since you won?
Since winning at Super Connect For Good 2022, Global Teacher has been a recipient of many super connections from Empact Ventures to decision-makers in corporate businesses such as Hays, PACE, Presidium Network and KPMG. This has been fantastic to pitch our concept to interested and aligned organisations.
We were also the recipient of a £5,000 cash prize from PACE who are also helping us with £20,000 of consultancy work on our processes at Global Teacher, which is helping to simplify and refine the running of the organisation and assisting with the building of the infrastructure. Kosta and Jemma at Empact Ventures have also acted as our Super Connectors for 3 months post-competition to assist with introductions and conversations at the right level, not to mention a visit to the Houses of Parliament for an event hosted by their partners, the Europe-India Centre for Business and Industry (EICBI)!
Overall, it's been incredible and to be asked to be a judge this year is an honour and so exciting to be truthful I don't think Kosta, Jemma and the team are done supporting us! Super grateful and I can't thank them enough.
---
Global Teacher was the 2022 Global Winner of the Super Connect for Good Competition and will return as a judge for the 2023 edition which is now open for application here.